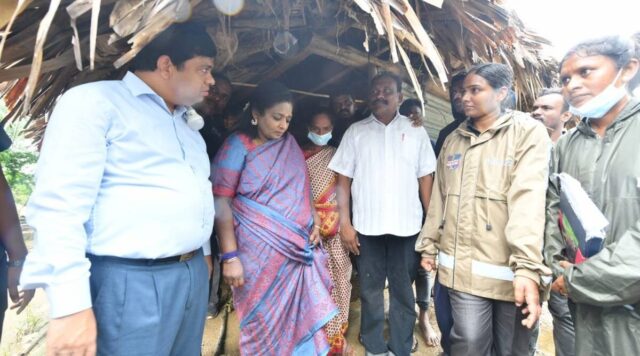 (G.N.S) dt. 18

Hyderabad

Telangana Governor Dr Tamilisai Soundararajan personally visited the flood-affected areas in Bhadradri-Kothagudem district of state and took stock of the situation and places lashed due to heavy rains.

The Governor walked around the area and visited relief shelters even as Telangana Chief Minister K Chandrashekar Rao was also in Bhadradri-Kothagudem. However, they did not come across each other.

The Governor also visited the shelter camps at Aswapuram mandal and interacted with flood-affected people.
She first visited Vemulapalli village in Aswapuram mandal and later, the shelter camps set up at SKT Function Hall, Pamulapally, and Taringini Function Hall, Chintiryala colony.

Though KCR reached Warangal via a chopper on Saturday evening to conduct an aerial survey of the flood-affected areas on Sunday morning, the chief minister had to cancel the plan due to inclement weather.