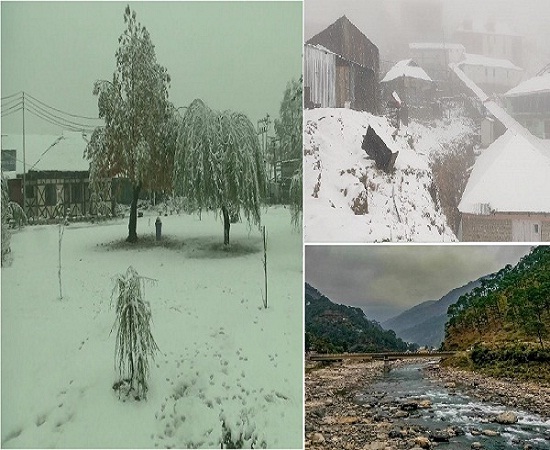 Snowfall has come in Jammu and Kashmir, Himachal Pradesh and Uttarakhand.
(G.N.S) Dt. 07
New Delhi/Srinagar/Shimla/Dehradun
Snowfall is occurring in the mountains of four states of the country. This has created a cold wave in northern India. Snowfall in Jammu and Kashmir, Himachal Pradesh and Uttarakhand have given their knock. The mountains are experiencing heavy snowfall in these states. People are facing a lot of trouble with this. People are facing problems in traffic, traffic and telephone services have come to a standstill in Srinagar. On the other hand, the first snowfall of the season gives the tourists a happy atmosphere.
Snowfall has also started in Himachal. Warnings of rain, hail and snowfall have been issued in most areas of Himachal Pradesh today and Friday. Investor meat is expected to be affected in bad weather. CM Jayaram and Deputy Commissioner Kangra have worshiped Indrunag, the god of rain. Let us tell you that after the announcement of the abolition of special status of Jammu and Kashmir, the hill areas received the first snowfall of this season on Wednesday.
Nearly two feet of snow fell on the high altitude of Gulmarg, the famous tourist destination of the Kashmir Valley, while 1.5 feet of snowfall was recorded in the Tangri area. The Meteorological Department had already predicted deterioration and snowfall in the Union Territories of Jammu and Kashmir and Ladakh from 5 to 8th November. Fresh snowfall and rain have led to a drastic decrease in temperature from the plains to the mountains and the valley is completely under the grip of cold.
Snowfall started on Wednesday morning in Gulmarg, the famous tourist destination of North Kashmir's Baramulla district. Meanwhile, with the arrival of around 150 tourists in Gulmarg today, the faces of people associated with the tourism business have blossomed. The temperature dropped due to rain at Katra, the base camp of Shri Mata Vaishno Devi in ​​Jammu.