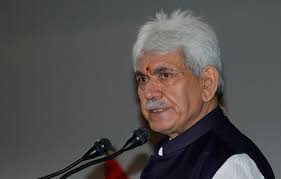 (G.N.S) dt. 27

Jammu/New Delhi

Centre has approved Pradhan Mantri Gram Sadak Yojana (PMGSY)-Phase-III for 1276 km of J&K roads costing Rs 1357 crore. An official spokesman in a statement issued here said that on the Centre's approval of sanctioning Rs 1357 crore for building road infrastructure in J&K, the LG termed the approval for PMGSY-III as yet another milestone in the rural connectivity of J&K.

LG Sinha said that under the PMGSY, J&K is among the best-performing states and union territories in the country.
He said that with the mission of ensuring safety, connectivity, and mobility to every village, 2353 PMGSY projects covering 17,336 km connecting 2071 habitations have already been completed.

The LG said that in 2021-22, 3284 km of PMGSY roads were constructed while 7301 km were blacktopped.
He said that 125 bridges are to be constructed under PMGSY to provide connectivity to far-flung areas.
The LG said earlier 6 km road length was constructed per day that had now increased to 20 km per day.