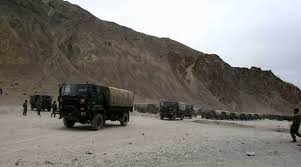 (G.N.S) Dt. 28
New Delhi
India has deployed its air defence weapon systems in the sensitive parts of Ladakh where tensions rose sharply after a brutal brawl in Galwan Valley left 20 Indian troops dead, people familiar with the developments said on Saturday on the condition of anonymity.
The air defence weapons in the Indian military arsenal include the indigenous Akash, the Israeli SpyDer and Soviet-origin Pechora and OSA-AK systems. Air defence systems can engage targets such as fighter jets, helicopters and unmanned aerial vehicles.
Both India and China have significantly reinforced their deployments with fighter jets, helicopters, tanks, heavy artillery and missiles in the region that has garnered extensive global attention in recent weeks, particularly after the bloodshed along the contested Line of Actual Control (LAC) in Galwan Valley.
"We have strengthened our deployments responding to the military buildup on the Chinese side. We are keeping a strict vigil along the LAC and are fully prepared to respond to any threatening action by the PLA," said the second official cited above.
Indian Air Force and the Indian Army have deployed their air defence systems in eastern Ladakh even as the People's Liberation Army Air Force has activated several of its bases in both Xinjiang and the Tibet Autonomous Region with Chinese fighter jets regularly making a show of strength in the Aksai Chin area, said the first official cited above.
Air defence refers to protecting military assets from an aerial threat by the enemy. India is working on setting up an air defence command to enhance military synergy and optimally utilise the resources of the armed forces.